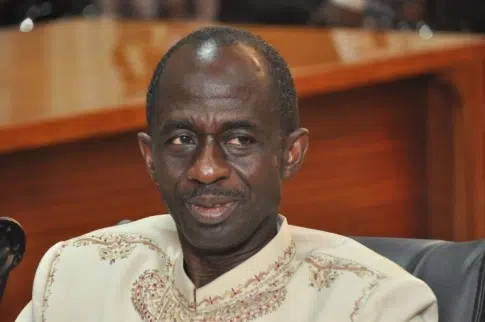 The General Secretary of the governing National Democratic Congress (NDC), Johnson Asiedu Nketia, should render "an unreserved, unconditional, unqualified apology" to victims of the recent microfinance scams mainly in the Brong Ahafo Region within three weeks or face court action, a group known as Customers of DKM, Jastor Motors, God is Love, Etc. has threatened.
Several persons who lost their investments to sham microfinance institutions, including DKM Diamond, Jastor Motors, God is Love, in 2015 after the Bank of Ghana ordered their closure following its discovery of their illegal operations, illegally, have piled pressure on the government to ensure their monies are released to them.
But Mr. Asiedu Nketia, also known as General Mosquito, on Class91.3FM's Executive Breakfast Show on Friday September 16 had stated that the calls for government to reimburse customers of such institutions their lost investments were misplaced.
In his view: "How can victims of the DKM microfinance scam demand that taxpayers' money be used to reimburse them when their bad investment decisions had nothing to do with government?
"Now those who are complaining, are they saying that when they make their individual investment decisions and things go wrong, we in government should take taxpayers' money … – which should have been used for road [construction], electricity provision, water, schools, health centres – we should divert that money and go and pay them because they took wrong investment decisions? Is this what they want to tell us?
"Or somehow they believe that they can fool Ghanaians into believing that when they say government should pay, it is not our tax money that the government is going to use to pay? But ask them: apart from your [taxpayers] money that we are implementing projects with, when you say government money, where is government money going to come from?"
The group, in a statement released on Sunday September 18 and signed by spokesperson Maxwell Mahama, has, however, described his comments as "unsavoury" and "unwarranted", reminding Mr Asiedu Nketia the victims' demands were premised on promises by some government officials to victims to have their investments returned to them.
They specifically mentioned President John Mahama as making such a pledge to victims on June 29, 2015 at Ntotoroso in the Asutifi North district of the Brong Ahafo Region.
Chief of Staff Julius Debrah, Brong Ahafo Regional Minister Eric Opoku as well as Nkoranza South MP and Deputy Local Government Minister Emmanuel Agyekum, the group said, also gave assurances to have locked-up payments released to affected customers
It concluded: "Should Mr. Aseidu Nketia fail to render the apology to us within the next three weeks, we are ready to face him at the law court for him to substantiate his unfounded allegations."