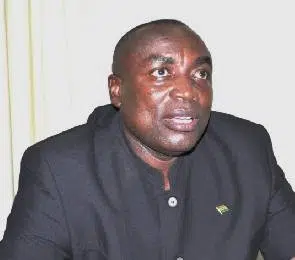 Credible information available to The Chronicle indicates that the top hierarchy of the New Patriotic Party (NPP) is considering recalling some of the national executives who have been suspended from the party for various infractions.
Mr Kwabena Agyapong, the General Secretary, Paul Afoko, the National chairman and Mr Sammy Crabbe, the second vice chairman are all on indefinite suspension.
The Chronicle could, however, not tell whether all the suspended national executives would be granted amnesty by the party, or just one or two of them. But sources say Kwabena Agyapong would likely be considered.
Frantic efforts made by this reporter to contact some of the national officers to either confirm or deny this story was unsuccessful, but Chronicle sources at the party office said the National Executive Committee would meet any moment from now to consider the recall of some of the suspended officers who have shown genuine remorse over the matters that led to their suspension.
The three national officers; Paul Afoko, Sammy Crabbe and Kwabena Agyapong were suspended last year for breaching the constitution of the party.
Mr Paul Afoko, who has since gone to court to reverse the decision of the party but failed, was suspended for refusing to appear before a Disciplinary Committee set up to investigate allegations that had been leveled against him.
Mr Sammy Crabbe on his part challenged the status of the Disciplinary Committee and refused to appear before them and was also suspended.
Like Paul Afoko, he also went to court for succor, but failed to convince the judiciary to reinstate him.
Kwabena Agyapong, however, submitted himself to the Disciplinary Committee and after its investigations, he was suspended indefinitely. He did not, however, challenge the decision in the court.
Kwabena, as he is popularly known in NPP circles, was found guilty of violating Article 3(D) of the NPP constitution, which enjoins members to publicly uphold the decisions of the party and also through various acts, including his disregard for the NEC decision on 23rd October, 2015, suspending Mr. Paul Afoko.
The suspended General Secretary disagreed with the findings of the Disciplinary Committee but refused to proceed to court to have the latter overturn the decision.
A Party source, which spoke to The Chronicle, however, said the decision to recall some of the suspended executives would not be a straightjacket one.
According to the source, the decision would thoroughly be debated before coming to any conclusion.
Meanwhile, Special Assistant to Kwabena Agyei Agyapong, Mr Mujeeb Rahman has denied media reports that his boss has given condition for his return to the position as General Secretary of the party.
According to Mujeeb, Mr Kwabena Agyapong, who is currently attending a conference in the USA, has not spoken to any journalist in recent times on matters bordering on his suspension.
To him, the publication was done with mischievous intent, but his boss, Kwabena Agyapong was above those kinds of politics.