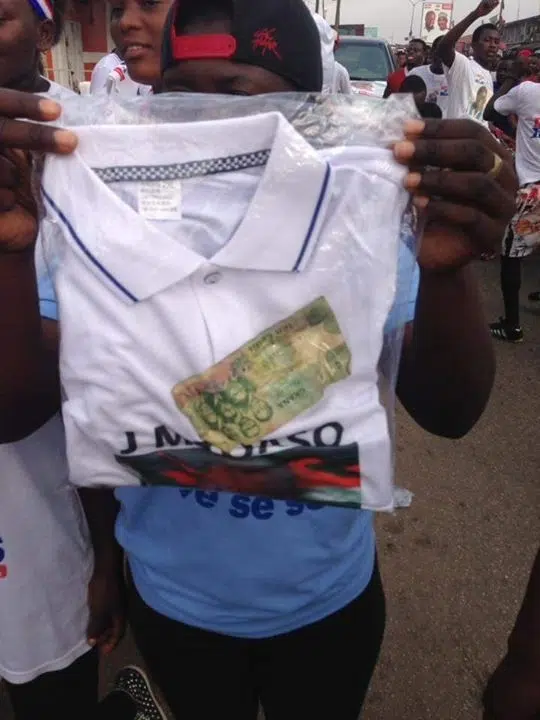 The Ashanti regional Organiser of the opposition New Patriotic Party (NPP) Stephen Amoah popularly called 'Sticker' has observed that Sunday was Ghana's 'day of shame' as monies were doled out to NDC supporters at Asawase during the President's health walk.
He wondered why the President would not concentrate on channeling State resources into providing jobs for teeming youth and Ghanaians who are suffering due to the current harsh economic conditions.
He called on the Mahama–led National Democratic Congress (NDC) government to rather settle some of the debts Ghana owes and desist from wasting State resources during their campaign tours.
Some bigwigs in the NDC are reported to have publicly shared monies to supporters they bused to the health walk at Asawase as part of the President's 4-day campaign tour in the region.
Some images have gone viral showing NPP supporters who disguised themselves as NDC supporters also taking some of the monies being shared and after changed to their party t-shirts.
Speaking with Ultimatefmonline.com, Sticker said these youth received the monies just to expose the President and NDC, describing the act as Ghana's 'day of shame'.
The NPP Ashanti regional director of operations for elections said it is wrong for the President to abuse incumbency saying it does not augur well for democracy.
''My candid advice to President Mahama and the NDC fraternity is that please enough is enough, they should stop using State resources, Ghana's money. What happened in Asawase I think is a day of shame to our democracy as a country and to us a people on the continent of Africa and the globe as a whole. Sharing money and T-shirts, these are pictorial evidence. This is real, this is not a fallacy. I mean how in a 21st century, a country that our debt portfolio has crossed hundred billion ($100,000 B)?.
Yet we have enough money to just share to young people……and look at how the youth are disgracing the government and the NDC. After taking the money and the t-shirts, they demonstrated and put on NPP t-shirts. My problem is why they are doing this to Ghanaians?.
Just a health walk, they had to go to Offinso North, Afrancho Akomadan just to deceive Ghanaians about the masses. Is that even so important, and even on top of all these issues they could share monies so visibly and conspicuously. The more they were sharing the money, the more the youth were demonstrating in NPP t-shirts,' he fumed.
He entreated the President to use such monies to pay nurses who have not received their salaries for years than to lavish it on 'mere health walk' challenging the President to ensure that he bridges the socio-economic gap between the rich and the poor.
He further urged the President to prioritise his spending behaviour by investing money in the Pantang Psychiatric Hospital in Accra where nurses have been on strike for some weeks now due to lack of funds.
'A country that a number teachers and nurses are not paid, huge arrears, domestic and foreign, a country that we cannot even employ our nurses, because of funds. There is a huge equity gap in terms of wealth and poverty…………….which is your duty as a President to bridge; the gap and ensure socio-economic development that will bring the gap of equitable distribution and look at what is happening. I am rather saddened and it's very pathetic. I know that they make mistakes but this one is beyond forgiveness,' he said.
Sticker added that the NDC is tickling itself into believing that it will win 13 seats in the region.