Late Sunday night, at least 50 people were killed and 400 were injured after a shooter opened fire at a country music festival on the Las Vegas strip. The attack is now the deadliest mass shooting in American history.
According to the Washington Post, 64-year-old gunman Stephen Paddock fired from the 32nd floor of the Mandalay Bay Hotel into the crowd of about 30,000 people below. Paddock is said to have shot hundreds of bullets. The hotel is about 1,200 feet from where country star Jason Aldean was performing at the time.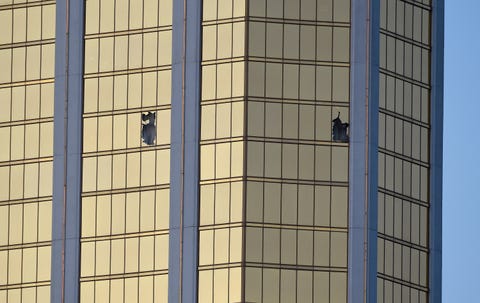 Paddock is believed to have checked into the hotel on September 28. It's unclear if he specifically requested a room overlooking the strip or if he avoided housekeeping from entering the room during his stay, NBC News reports. CNN reports he had a "cache" of weapons in his room. Las Vegas Metropolitan Police Sheriff Joseph Lombardo told CNN authorities believe "the individual killed himself prior to our entry."
Until this morning, police were also searching for Marilou Danley, Paddock's "companion" and "roommate" as a person of interest, per the New York Times. After making contact with her, they no longer believe she was involved in the shooting.
Jason Aldean posted an Instagram this morning writing "Tonight has been beyond horrific. I still don't know what to say but wanted to let everyone know that Me and my Crew are safe."
Though identities of the victims have not yet been released, CNN confirms some off-duty police officers who attended the concert and police who responded to the scene are dead or critically injured.